| HO Consignment Trains; HO Consignment Models; HO Used Models; HO Used Trains; HO Used Brass; Consignment Brass; PFM Brass; PFM HO Brass; Coach Yard Brass; Oreiental Brass; For Sale; Used HO Oriental Brass; Used PFM Brass; Used OMI Brass; Used Overland Brass; Used Overland Models Brass; | | Atlas HO BN GP40; HO used brass; HO Used Atlas; HO used Kato; HO used Athearn; HO used OMI; HO used Overland; HO used Overland Brass; HO Schnabel Car; HO OMI Schnabel Car; OMI Jordan Spreader; HO OMI SD40-2B; BN #7502; |
| --- | --- | --- |
| | |
| --- | --- |
| We accept: | |
| | |
| | |
| | |
Consignment Model Pages:
•
NEW

HO Consignment List Index •

New items ADDED & Sold Items Deleted, uploaded 5/30/23.
Click HERE to view the

LATEST

HO Scale Consignment list,

NEW items have been added!
• Items in
Orange

have been

SOLD

•
Photos Are Available Upon Request!

OMI 6325 Cust Painted SD40-2B BN #7502

OMI 3302.1 Factory Painted BN Jordan Spreader

OMI 3702.3 Factory Painted CNW Bay Window Caboose

Reduced!

These are just some photos.
If you want to see photos of a particular model on our consignment list just ask!

OMI 3337.2 Schnabel Car w/Transformer WECX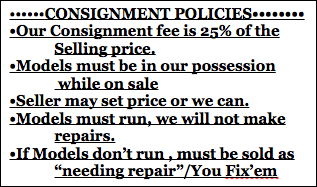 ---
HO
CONSIGNMENT/USED CONTENTS•
CURRENT MASTER
Most recent Consignment
price reductions in red 2-12-'23
MANY PRICES REDUCED!
/////////////////////////////////////////////////////////////////////////////
BRASS Sn3 CONSIGNMENT
Sn3 Brass Models
HO Brass Pecos River Brass Sn3 DRGW 1500
series flat car. 9 stake pockets. Painted MOW gray Rd#06208. Very good cond. never run. Nice model Original box & Foam
$95.00 TN/22
HO Brass Pecos River Brass Sn3 DRGW 1600
ser. flat car. 10 stake pockets. Painted brown w/ white lettering #1597. Very good cond. Neve run. Nice model. Arch bar trucks
Price $95.00 TN 7'22'22
Sn3 Brass Models END
‡‡‡‡‡‡‡‡‡‡‡‡‡‡‡‡‡‡‡‡‡‡‡‡‡‡‡‡‡‡‡‡‡‡‡‡‡‡‡‡‡‡
BRASS HO CONSIGNMENT BELOW
CAN SEND PHOTOS OF MODELS
*HO brass Custom Brass #RS-657-3 OD HOn3
Snow Flanger Custom paint D&RGW flanger OD. Gray paint w/blak lettering. Some very slight discoloration on end of each blade. (You may not see it) Very nice condition, nice paint. No couplers, orignal box & foam $149.95
TN 7-22'22
HO brass United PFM; NYC 4-8-4 Niagara,
S-1B,; Japan, Atlas. 1957or '58. Custom Paint NYC #6001. No window glazing. Nice coal load. No backhead or cab detail, some white paint missing on driver tires. Open frame motor. KD cplr on tender. Very nice looking loco. Original blue box in nice cond. not original packing. Blind unsprung drivers. Has wheel wear, runs pretty good forward. Got better with running. So so runner backward, has a slight loap, got better w/running. Has white dust or shadow on 10 wheel centipede tender truck, in the crevices but not on front tender 4 wheel truck. Detailing actually shows better than on 4 wheel truck. No spare parts. No operating
lights.Weight installed. ours $224.98 jwb 8'20
NYC LOCO ABOVE NOW $95.00
HO Brass Overland Models #3702.3 C&NW
steel bay window caboose Factory paint Rd#10350 yellow w/green roof, white steps, C&NW Herald. U.S. Flag on side. No roof walk or end ladders. Very good cond. like new, never run. Original box & foamAJin-Korea;
ours ....$295.00 TN 6'22
HO Brass; Overland OMI #6325; SD40-2B; Burlington Northern #7502; B-Unit "Hammerhead"; Ajin, 1992 Run; Custom Paint & Lettering,; Tower Drive, See Through Dynamic Brake & Radiator Grills, Excellent Paint, Model, Box & Foam All Excellent Condition, w/Kadee Shelf Couplers. No lights, runs very smooth/quiet.
Our price $725.00 PDB 4-'23
New Listing above
///Overland Models Caboose ///////////
#2053 C&NW Bay Window caboose #2053 as
rebuilt 1970's. Brass unpainted, mint cond. never run. Original box/foam all in
excellent cond. $165.00 M.A.
///////////// May'23 ////////////////
New Listing Above.
HO Brass Overland Models #1881 Alco FA-1
Custom Paint Union Pacific #1608 w/large number boards. Non operating head light, has cab detail. Like new. Test run only, runs
good. Original box & foam. Ajin-Korea
our price $295.00 pfb 3'22
ABOVE #1881 ...NOW ONLY $195.00 pfb
HO Brass Overland Models #1881 Alco FA-1
Custom Paint Union Pacific #1607A w/large number boards. Non operating head light, has cab detail. Like new. Test run only, runs
good. Original box & foam Ajin-Korea
our price $295.00 pfb 3'22
ABOVE RD# 1607A..NOW $195.00 pfb
HO Brass Overland OMI-3840 Single track
Russell Snowplow. SOO LINE custom paint #804 Brown w/yellow plow. Very nice. Never run. Ajin-Korea Original box and
foam $225.00 dn
HO brass Overland -Ajin #3231 UTLX 10,000
gal. tank car, uninsulated, single dome. Built 1930 C/P gulf Oil Corp #15260 blue. Never run, original box and foam good cond.
Ours $150.00 DN
New Listing below
HO Brass Overland OMI #3302.1; Burlington
Northern Jordan Spreader; Factory Paint, Brown BN#972657; Slight wheel wear. Original box and foam, all in Excellent Condition. Kadee #5's installed, parts bag included. 1995 Run.
Our price $495.00 PDB 2-'23
New Listing below
HO Brass Overland; OMI #3337.2; WECX #202
Westinghouse Schnabel Car; w/Trans- former Load. Nov.'95 run. F/P Light Blue, white lettering, yellow railings. Original box and foam. Model and foam in excellent condition. Box has a couple scuffs, otherwise in great condition. Parts bag with 2 load connecting pins included. Kadee shelf couplers installed.
our price $995.00 PDB 2'23
HO brass Overland #5450 Santa Fe F-3 Ph II
A unit #19. Unpainted very good cond. Runs good w/coasting drive. Original box &
foam. Ajin-Korea. $225.00 DN 10-'21
HO Brass Overland #5824 SOO Line FP7 Aunt
#500A-505A. Custom paint Soo Line #505A. Has window glazing & couplers. Very nice pant. Runs very well, very nice model. Original box and foam. Ajin, Korea
our price $325.00 DN 10-'21
HO brass Oriental Ltd Union Pacific version EMD E9A unit 2400 HP. Unpainted, w/dynamic brakes. Like new, test run only &runs
nice. Original box/foam...250.00 pfb 3'22
E9A Above NOW ONLY $125.00
HO brass Orintal Ltd Union Pacific E9B unit,
UP version. Unpainted w/Dynamic brakes. Like new, test run only, runs nice. Original box
& foam. Samhongsa-Korea $195.00 pfb 3'22
E9B ABOVE NOW ONLY $100.00
HO brass Oriental Ltd Korea-Samhongsa GE
U25B 2500 HP high Hood Factory Paint Union Pacific (No road #) Very good cond. Test run only. Like new some cab detail. Little noisy.
Original box/foam $195.00 pfb 3'22
U25B ABOVE NOW $125.00pfb
HO brass Oriental Ltd GE U25B 2500 HP low
hood intermediate. Factory Paint Union Pacific (no rd#) some cab detail, very good cond. Like new. Test run only. Runs nice, little noisy. Original box/foam Samhongsa Korea;
Our price $225.00 pfb 3'22
U25B ABOVE NOW ....$125.00
HO brass Oriental Ltd EMD F3B unit 1500 HP
Ph II, III sprung trucks, unpainted, like new. Test run only runs nice. Need to install one exhaust fan on roof. (exhaust fans provided)
Original box/foam. Samhongsa-Korea
Our price $80.00 pfb 3'22
F3B ABOVE NOW ...$50.00 PFB
HO brass Oriental EMD GP-9 diesel 1750 HP
Custom paint Northern Pacific black/orange w/red strip. No window glazing, very nice paint.Model is in very good cond. Test run
only. Original box & foam $150.00 DN 10'21
HO brass Oriental EMD GP-9 diesel 1750 HP
Custom paint Northern Pacific black/orange w/red strip #557. No window glazing, nice paint. Model nice cosmetic cond. Test run ony, poor runner May need some work. Sam-
hongsa, Korea Price $150.00 DN 10-'21
HO brass Oriental Limited EMD E6 A unit
2000 hp unpainted. Some tarnish, very
good cond. Test run only, runs nice. Original box and foam Samhongsa-Korea
$175.00 DN 7/21
HO brass Oriental Limited. Great Northern
streamlined Empire Builder 37 mail baggage car. C/Paint Emp. Bldr. Car #37 w/window glazing. No couplers. Very nice. Orig.
box/foam. Kumata/Japan $150.00DN (2-'20
HO brass Oriental Ltd. EMD GP7 1500 HP
Std. Custom paint SOO Line #377. Samhongsa; Korea. Black body, black & yellow stripes on ea end. Knuckle cplrs. Mint cond. test run only. runs good. Original box/foam
$165.00dn 7-'17;
//////////////////////////////////
HO Brass Sunset Models EMD GP-7 Passenger 1500 hp road switcher Custom paint SOO Line #2556, red/white paint. Alright paint job, KD coupler window glazing, very good
cond. Original box and foam Made
in Korea $125.00 DN 7'21
Trains Inc. Steel Ice Express Reefer. (10-'14)
Mint cond. unpainted w/some tarnish.
Never run. Original box a packing $45.00pfb
MODEL ABOVE $19.95 PFB
HO brass WMC Westside NYC 4-6-4 J3a 4-6-4
Hudson Dreyfuss Streamlined. Built 1982, Micro-Cast, Mizuno, Japan. 20th Century Limited Super Hudson, 14-wheel, PT tender. Comes in original black box and foam all very good cond. No Paint, no tarnish, very nice looking model.Can motor, runs good forward and back, but needs break-in. Scullin Drivers, no operating lights. Very nice back-head/cab detail. Nice truck detail on tender and nice water pickup under tender. Sprung drivers & plastic brake shoes in parts bag to be attached. Boiler weight in box.
Loco in Mint Cond. ...$999.00jwb
NYC MODEL ABOVE NOW $799.00
HO Brass Sakura-Japan #1001 0-4-0 Docksider
painted black, no lettering. Runs ok. Good cond. Original box, not orinal packing
$150.00 TN 7-22'22
HO Brass Shoreham Shops #1120; 14 section
sleeper, plan 3958 lots 6357, 6373, 6376 standard No AC. GN empire Builder; PRR Broadway Ltd. UP Columbine, NYC 20th cnt & SouthwesternLtd, B&O Capitol Ltd. unpainted, six wheel trucks, unpainted. Mint cond. Orig.
box & foam. Never run. $350.00 pfb 3'22
#1120 ABOVE NOW...$200.00
HO brass Shoreham Shops #1210 8 section
10 Drawing Rm; 2 compt (3979) sleeper. Standard, N AC. GN empire Builder, NYC 20th Cent. Rock Island, Golden State; Sou. Crescent; SOO CP Mountaineer, UP Overland. Mint kCond. unpainted, 6 wheel trucks Original box
& foam. Never run. $195.00 pfb 3'22
#1210 ABOVE NOW...$100.00pfb
//////////////////////////////////////////////////////////////////////////////////
Broadway Ltd #463 EMD E8 A unit Union
Pacific painted #929, powered DC/with Quantum Sound. Very good cond. Test run only,
runs nice. Original box/foam.$109.95 rs 12/21
CONSIGNMENT MODELS;
YOU FIX IT DEPT.
SOLD AS IS; NO RETURNS!
Do not buy these models if you are not experienced at repairs.
////////////////////////////
////////////////////////////////////////////////////////////////////////////
Misc HO Items
HO brass, Coach Yard, Union Pacific U-43-HR
Type "B"passenger car trucks, one pair.
(For 1941 COLA/COSF)....ea. $25.00 (4)pb
(2) open frame std DC motors each $3.00
(2) Details West AD-194 (set) Awning & smoke
deflector 2nd Gen Hood Units each $1.95
Six Details West AH-253 Air Horn; Nathan K3,
Reverse #4. ATSF, BNSF, SP, UP &
others $2.99 each

NO U-FIX LOCOS CURRENTLY IN STOCK.
U-FIX MODELS
END BRASS CONSIGNMENT .
‡‡‡‡‡‡‡‡‡‡‡‡‡‡‡‡‡‡‡‡‡‡‡‡‡‡‡‡‡‡‡‡‡‡‡‡‡‡‡‡‡‡
Precision Craft Models HO #338 Alco/Santa Fe
PA2, A unit. Warbonnet red/silver #59L AND #339 Alco Santa Fe PB2, B unit. Warbonn-et red/silver #59A. Drawbar between A&B. Sound DC/DCC. Test run only. Very good cond., runs nice. Original box/packing. All in very nice cond.price for set A/B $399.95 rs 12/21
‡‡‡‡‡‡‡‡‡‡‡‡‡‡‡‡‡‡‡‡‡‡‡‡‡‡‡‡‡‡‡‡‡‡‡‡‡‡‡‡‡
‡‡‡‡‡‡‡‡‡‡‡‡‡‡‡‡‡‡‡‡‡‡‡‡‡‡‡‡‡‡‡‡‡‡‡‡‡‡‡‡‡
KATO HO CONSIGNMENT
*Kato 37-6474 Canadian Pacific
AC4400CW #9532 Std. DC new in factory sealed plastic. Never run, as new
cond. Box good cond. $125.00 SJ/jwb
‡‡‡‡‡‡‡‡‡‡‡‡‡‡‡‡‡‡‡‡‡‡‡‡‡‡‡‡‡‡‡‡‡‡‡‡‡‡
WALTHERS HO CONSIGNMENT
Walther's HO #932-23553 Denver & Rio
Grande PS 60' Auto box car single door DF, 2-Pack #63837 & 63842. Ready to run. Very good cond, never out of original box.
our price $39.95 rs 12'21
Walther's HO #932-3552 PS 60 Automobile
box car, single door Rd#489889 B&O, cushion underframe. Very good cond. $21.95 rs
WALTHERS HO CONSIGNMENT END
/////////////////////////////////////////////////////////////////////////////
ATHEARN HO CONSIGNMENT
*Athearn Geneses G62494 Northern Pacific
GP-9 Ph II Like new never run Original box $125.00 TN 7'22
Ath #1251 Kit (Assembled) S.P steel cupola
caboose #1060 w/Kds $5.00DN
//// END ATHEARN HO CONSIGNMENT////////////
‡‡‡‡‡‡‡‡‡‡‡‡‡‡‡‡‡‡‡‡‡‡‡‡‡‡‡‡‡‡‡‡‡‡‡‡‡‡‡
ATLAS
*Atlas HO #8976 Penn Central GP-38 (Master
Series non sound) DCC Rd#7754 Like new. Test run only runs nice. Original box
packing. ..$89.95 rs 12'21
Atlas #8901 GP40 Burlington Northern #3513.
Dynamic brakes, accumate knuckle couplers. White face paint w/white pin stripe on long hood. Loco is Mint, box is excellent. Smooth quiet runner, directional lighting. Parts bag included. Little wheel wear.
DCC Ready $115.00 NOW$99.95db 8-'17
////////////////////////////////////////////////////////////////////////////
Misc Plastic.-wood model/kits
*Life Like GP-30 custom paint SOO LIne red
& white, black lettering Rd#720. Has window glazing, good cond. Nice paint. Test run only. Makes a clicking noise when unit
runs. Our price $34.95 TN 7'22
Proto 2000 ser DC (Life Like) #23028 GP-7
PhII, second release without dynamic brakes and no steam generators. Model undecorated; assembly required for handrails and other small parts. (Parts included) Very good cond. Never out of original box which is
in good cond. ...$84.95 each (3) rs 12'21
Proto 2000 #23450 Union Pacific Alco FA-1
#1600 U.P. FB-1 #1600B unit. Diesel set assembly required, body assembles to chassis w/screws. Std DC. Like new, orig box/packing. Both units powered. Never out of orig. box A/B
set $139.95 rs 12'21
MODEL ABOVE NOW ..$119.95 rs Proto 2000 #23451 Union Pacific Alco FA-1
#1614 U.P. FB-1 #1614B unit. Diesel set assembly required, body assembles to chassis w/screws. Std DC. Like new, orig box/packing. Both units powered Never out of orig. box A/B
set $139.95 rs 12'21
MODEL ABOVE NOW ..$119.95 rs
Proto 2000 #23452 Union Pacific Alco FA-1
#1624, U.P. FB-1 #1624B unit. Diesel set assembly required, body assembles to chassis w/screws. Std DC. Like new, orig box/packing. Both units powered. Never out of orig. box
A/B set $139.95 rs 12'21
MODEL ABOVE NOW ..$119.95 rs Silver Streak Models #164 40' Northern Pacific
Hart gondola. Built up kit. Black paint w/white lettering Rd#86125. Very good cond.
Nice model, never run. $6.95 TN 7'22
Silver Stream Models #424 40' wood reefer
Northern Pacific Rd#92663, built up kit. Nice cond. never run....$3.95 TN 7'22
The Ertl Co. Ertl Collectibles
Authentic Rwy Designs;
American Classic Series
Ertl #1381 L&N 40 low side gondola car #50101
very good cond. unused (2) ea. $9.95 rs
Above #1381 each. now $5.00 rs
Ertl #4986 Lehigh Valley 40' low side gondola
Rd#91325. Very good cond. unused
Orig box price $9.95 rs 12'21
Above #4986 now $5.00 rs
//////////////////////////////////
MISC. HO CONSIGNMENT
unknown Manufacture; C&NW Bi level
commuter coach. custom paint for CNW. Window glazing, no lights, no inside detailes. No under body details, Kadee cplrs. Very good cond.
Never run. Not orig box. $45.00DN
above REDUCED TO $9.95 DN 4-'19